Who Moved My Cheese? (By: Spencer Johnson)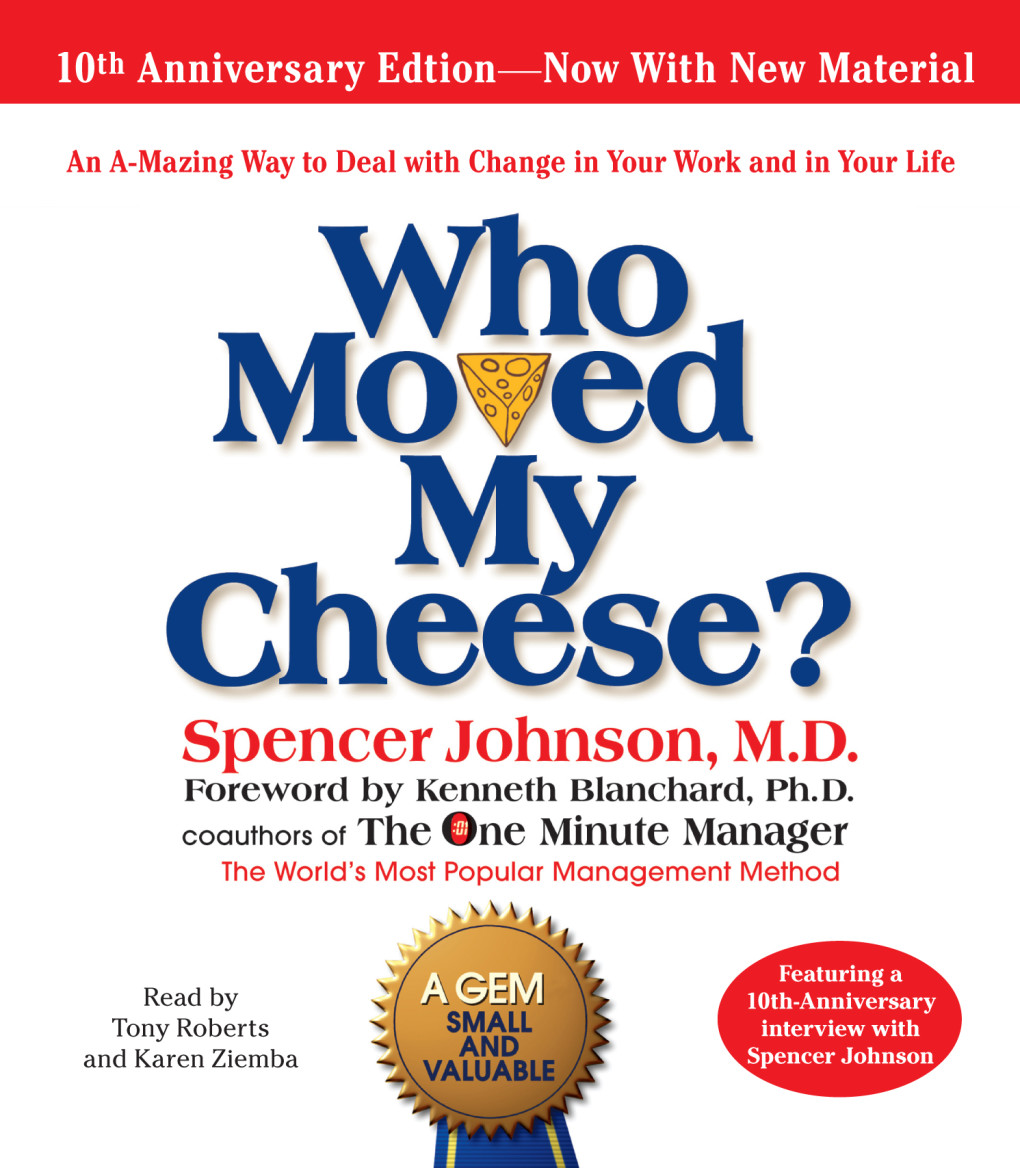 Overview
With Who Moved My Cheese? Dr. Spencer Johnson realizes the need for finding the language and tools to deal with change—an issue that makes all of us nervous and uncomfortable.
Most people are fearful of change because they don't believe they have any control over how or when it happens to them. Since change happens either to the individual or by the individual, Spencer Johnson shows us that what matters most is the attitude we have about change.
Spencer Johnson has created his new book to do just that. The coauthor of the multi-million bestseller The One Minute Manager has written a deceptively simple story with a dramatically important message that can radically alter the way we cope with change. Who Moved My Cheese? allows for common themes to become topics for discussion and individual interpretation.
Who Moved My Cheese? takes the fear and anxiety out of managing the future and shows people a simple way to successfully deal with the changing times, providing them with a method for moving ahead with their work and lives safely and effectively.
---
Quotes from the book
Hooray for change! It's Maze time!
What would I do if I weren't afraid?
When you move beyond your fear, you feel free.
Imagining myself enjoying new cheese even before I find it, leads me to it.
The quicker you let go of old cheese, the sooner you find new cheese.
It is safer to search in the Maze than remain in a Cheeseless situation.
What you are afraid of is never as bad as what you imagine. The fear you let build up in your mind is worse than the situation that actually exists.
Old beliefs do not lead you to new cheese.
When you change what you believe, you change what you do.
You can believe that a change will harm you and resist it. Or you can believe that finding new cheese will help you, and embrace the change. It all depends on what you choose to believe.
When you see that you can find and enjoy new cheese, you change course.
Noticing small changes early helps you adapt to the bigger changes that are to come.
You could be more aware of the need to keep things simple, be flexible, and move quickly.
You did not need to over-complicate matters or confuse yourself with fearful beliefs.
You could notice when the little changes began so that you would be better prepared for the big change that might be coming.
You need to adapt faster, for if you do not adapt in time, you might as well not adapt at all.
You have to admit that the biggest inhibitor to change lies within yourself, and that nothing gets better until you change.
Change happens; they keep moving the cheese
Anticipate change; get ready for the cheese to move.
Monitor change; smell the cheese often so you know when it is getting old.
Adapt to change quickly; the quicker you let go of old cheese, the sooner you can enjoy new cheese.
Change; move with the cheese
Enjoy change!; savor the adventure and enjoy the taste of new cheese.
Be ready to change quickly and enjoy it again & again; they keep moving the cheese
I guess it's a lot better to initiate change while you can, than it is to try to react and adjust to it.